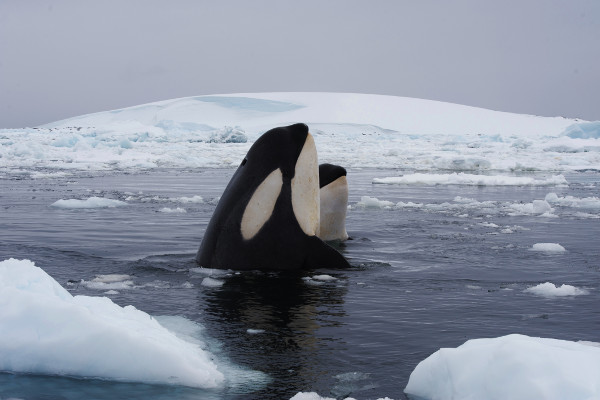 Antarctica, often referred to as the "White Continent," might appear inhospitable and barren at first glance, but beneath its icy exterior lies a vibrant and diverse ecosystem. Home to an array of fascinating wildlife, this frozen realm is teeming with life that has adapted to survive in one of the harshest environments on Earth. We embark on a journey to explore the extraordinary creatures that thrive on land, ice, and in the icy waters surrounding Antarctica. Wildlife of Antarctica is fascinating.
Wildlife on Land and Ice
Emperor Penguins (Aptenodytes forsteri):
Emperor penguins are the largest and most iconic of all penguin species. These impressive birds have a unique breeding strategy, with males incubating eggs on their feet during the harsh Antarctic winter. The colony at Auster Rookery, near McMurdo Station, is one of the largest emperor penguin breeding sites, hosting thousands of breeding pairs.
Adélie Penguins (Pygoscelis adeliae):
Adélie penguins are the most abundant penguin species in Antarctica. Known for their striking black and white plumage and distinctive white eye-rings, they breed in large colonies along the coastline. Adélie penguins are highly skilled swimmers, capable of diving to considerable depths to hunt for fish and krill.
Weddell Seals (Leptonychotes weddellii):
Weddell seals are among the most well-adapted creatures in Antarctica's frigid waters. They possess a unique set of adaptations, including a specialized hemoglobin that allows them to remain submerged for extended periods. These seals often use cracks and holes in the sea ice to access their underwater feeding grounds.
Antarctic Fur Seals (Arctocephalus gazella):
Antarctic fur seals were hunted nearly to extinction during the 19th century for their valuable pelts. However, their populations have rebounded since hunting ceased, and they are now a common sight along the Antarctic Peninsula. They breed in large colonies and are known for their agility in the water.
Snow Petrels (Pagodroma nivea):
Snow petrels are ethereal, all-white seabirds that are often spotted soaring over the icy landscapes of Antarctica. They have a keen sense of navigation, and their presence serves as a reminder of the region's stunning avian diversity.
Wildlife in Icy Waters
Antarctic Krill (Euphausia superba):
Antarctic krill is a small, shrimp-like crustacean that forms the foundation of the Antarctic food web. These tiny creatures play a crucial role in the ecosystem, serving as a primary food source for many species, including whales, seals, and penguins. Their swarming behavior creates "krill clouds" visible from space.
Humpback Whales (Megaptera novaeangliae):
Humpback whales undertake extraordinary migrations, traveling thousands of miles between their summer feeding grounds in Antarctica and their tropical breeding areas. These magnificent creatures are known for their acrobatic displays, including breaching and tail-slapping.
Killer Whales (Orcinus orca):
Killer whales, or orcas, are highly intelligent and social predators that hunt in coordinated packs. They have distinct hunting strategies and are often observed preying on seals, penguins, and even larger marine mammals like minke whales.
Antarctic Silverfish (Pleuragramma antarcticum):
Antarctic silverfish are small, translucent fish that inhabit the cold waters around Antarctica. They play a vital role in the food chain, serving as a food source for various predatory fish and birds.
Antarctica's wildlife, both on land and in its icy waters, demonstrates incredible resilience and adaptability in the face of extreme environmental conditions. These remarkable creatures form a delicate and interconnected ecosystem, with each species playing a vital role in maintaining the delicate balance of life in this pristine environment.
As the world becomes increasingly aware of the importance of preserving our planet's biodiversity, protecting the unique and vulnerable wildlife of Antarctica becomes ever more crucial. By understanding and appreciating the fascinating creatures that call this frozen continent home, we can work together to ensure their survival for generations to come. The wildlife of Antarctica serves as a powerful reminder of the natural wonders that exist in even the most remote corners of our planet, inspiring us to safeguard these ecosystems for the future.