Arctic Record Chapter 1: Surviving Antarctica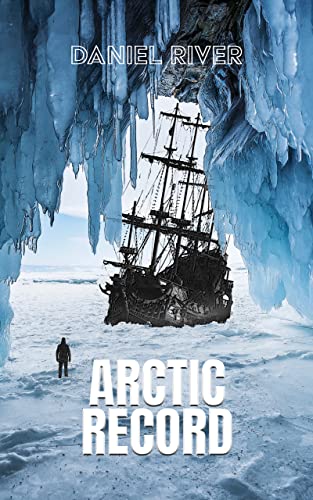 The darkness of the wind-swept, opaque yet reflective night against the unending sheets of snow grows dimmer—as if it does not desire to falter deliberately, let alone subside. Perhaps the tragedy that happened minutes ago left its aftereffects on other things besides the many concomitant men.
None of them could be seen right now. Across the infinite expanse of the Earth's southernmost land-form, positioned almost entirely south of the Antarctic Circle, fenced by the Southern Ocean, and holding the geographical South Pole, the point of a graver explosion is a place cloaked in ice with no habitation.
It is not just ordinary ice. The average thickness around the Arctic measured 1.2 mi, even with the maximum elevation observed worldwide. Beyond what the human eyes could see, granted that there were any around the fifth largest and most frosty site on Earth, the horizon where the murky sky and the ice-line meet is in thorough contrast—the black of the night parallel to the white of the rigid panes of snow.
Henry Carter's fearful pair of eyes is the only green around the Peninsula. But, unlike their usual vibrant hue, they appear hazy right now, as if the corneas are concealed in a fresh glare of recently shed bullets of tears. They most definitely did.
Ever since Henry regained consciousness and found himself pushed to face the harsh reality of the situation, he sits exceedingly motionless against a massive ice boulder in the middle of nothingness while tightly holding the furry, greyish-white Maine Coon in his right arm, nuzzled underneath his black denim jacket. He called the cat Sam. Yet, despite the stock-still demeanor, the dark-haired college-going boy shakes on the inside. So much so that even Sam does not stay at ease on his lap. Perhaps his apt body, the bulges on his arms, the toned flesh on his calves and thighs, and the well-formed chest above the flat stomach had frozen with both shock and the temperature. It is -89 degrees, the temperature that arrested people to death.
Nonetheless, Henry is breathing. If one calls the shallow and fast rise and fall of the chest that, then he is—but more than the usual pace, satisfying his cognizance that at least his internal biology is okay. Is it?
Underneath his thick jacket, the maroon woolen sweater feels paper-thin. The crochet fabric of the body-hugging beige pants around his spread-out legs feels too permeable as the skin on them senses needles, like something prickling inside the body part. It also burns a little, especially the right leg near his ankle.
"Ah," Henry groans. Sitting up straight as his very first movement since his eyes opened to an eerie sight, Henry's thin lips parted to let out a painful moan, and Sam trilled in his lap with the motion.
"Shh, it's okay," he croons to the pet as his aching back finds a much more comfortable spot while keeping the throbbing leg firm in its place. Nothing about this was, however, comfortable. With his bottom feeling numb, he does not find the ice-covered ground a fine place to sit, especially when his body twinge at various tender points.
Staring at the ankle, Henry bobs his head full of dark, straight hair to clear his line of sight. After doing that, he can see the fabric is torn at both the knees while the patch around where it hurt, near the foot, seems stuck to the skin—a solid indication of blood or pus oozing out of the possible wound on his right leg. To further affirm his guess, he tries to fold his leg slightly but ends up screaming in pain. Certainly, the wound is at least a second degree.
"Darn it," mutters Henry in vexation as his mouth opens to breathe more after the grimace. As he does, visible puffs of air smoke out of it, a perfect demonstration of extreme cold. Observing himself more critically, he remotely feels better that it was only his leg that burnt, no other part of his untidy body felt this sour. Perhaps pain as a symptom was chosen well and good.
After a minute of optical self-assessment of his traumatic body, Henry's excessively long face tilts upwards to finally notice what stands around him. There is nothing. No matter how far his gaze reaches, all it sees is pallor; no other color is in attendance. The smooth yet mounting snowy topography of the land hints absence of human and native species in the proximity. As a science enthusiast, a marine biologist, and an earnest individual, Henry devices that much about the surroundings.
It gets pitch black now, the night reaching its darkest shade, yet the pastiness of the abundant snow remains. The wind also ruffles more loudly, adding more to the drama of the present-day. At that moment, amid the rising tragedy, the young man feels a sudden urge to help himself.
Elbowing the unyielding ice to move up while managing to keep his right leg secure at its spot, the young boy further rears his head to observe the environs more meticulously. He knows there can't just be nothing. How can it be when he did not come alone?
With his inquisitive eyes lingering around frantically, Henry nudges Sam with the surface of his thighs, afraid that he might even lose him, just like his fellow members. They all were together. At least they were before the unexpected happened.
At last, after wincing multiple times and shifting his mass to a less agonizing movement, Henry sits up straight, the entire back independent of the arctic boulder. He exhales in relief and quickly brings forward his arms to adjust the furry cat's position on his lap, covering it with the left flap of his jacket. Sam whirrs a little as he does this, shedding a few of his hair on the pants' torn cloth. His arms then reach to touch his injured leg with his gloved right hand. The touch sends a soothing sensation down his body as if he is still alive. But barely.
Whilst the night falls in the Antarctic Peninsula, it announces its arrival at its peak. Henry notices how the absence of light made the crystal-like icy rocks and glaciers shine even more brightly. Even the slicker ones did. The ice shelves encircle him, forming a massive landscape with all of its glory. Along the boundless line of hoarfrost slopes, the glaciers sit silently in between, as if happily connecting the marvels of nature to appear in unison. The wind that blows gaudily and ends on a whistle added to the theatre of the scene. Spurting, tooting, and then falling to a pin drop silence, the wind with its patterned sound stays recurrent, almost forming a melody to the listeners. Unluckily, there was no one but Henry.
The intensity of his gaze excavates as he finds an odd view amid the strata of ice. Right where he sits with one of the giant boulders, he could see that the frozen land seems to end as the abrupt downward curve appears evident. A normal person could not have detected that, but as part of the team and an expert in his field, even as eighteen years old, he could scale that the glaciers remain only around him. He could see that they ended a mile away, sloping down.
As soon as the thought knocks on his crown, Henry tries to give it one more try and stand up. He knows that he won't be able to use his injured right leg, yet he desires to stumble along on his left one.
Sluggishly, he places his glove-covered palms on the ice below him and pulls himself up. Sam recoils as he does that, looking afraid.
"Easy, boy," Henry calms the cat but still continues to try to regain his length. He does.
"Ow!" a gush of blood flows from his waist below, tipping till the end of his feet. The long-numbed veins gush with spurts of blood as he feels the needles on his legs getting less frequent. It hurts first but then makes him feel his body again. With his left arm holding Sam close to his chest, Henry stands with all his weight on his left leg and sighs in relief.
"That's right," he looks at the furry person. "We stand now," A minute grin splits across his face as he rubs him. The cat chirps and moves his head to look around. Henry mimics him.
One thing that Henry knows at that moment is his presence in the Eastern Antarctic Plateau, Antarctica, and the much smaller region of the whole. On the other hand, the added thing he knows is being alone. He could eye no one around. Standing at his full length, he tries to look as far as possible, but with the strength of the gushing wind and the shadow of the night, he could observe no one.
His mind frantically shifts back to his earlier thought—the downward curve extending a mile from him.
"Shall we?" he asks the cat, who purrs; he takes it as a sign of an affirmation.
Taking a long, deep breath, Henry taps the chilly ground with the tip of his ice-cold right foot and then puts his weight on it. A small moan escapes his mouth, yet he continues. He manages to keep the injured foot on the ground as the pain is somehow bearable. Then, he begins to saunter forward. Tiny steps escape his gait as the young man looks ahead and aims at his choice of destination.
To the extent of his knowledge, he could only guess if what he sees is exactly what he thinks. The only way to confirm it is to go and see it by himself. He decides to do what his mind says.
Stumbling on his left foot while the right one only helps him move forward, Henry keeps his stride steady and nears the downward slope. The slope is steep yet did not look uneven as he could visibly eye the entire trajectory that he might take if he followed the trail on it. The expanse of the slope extends as far as he can see, making him trust his idea even more. Thinking of it as the only way to help himself and his pet, Henry steps forwards until half of his left foot is without ground.
Surges of sharp, piercing wind hit him across his pale cheeks, making him shudder in the cold. Within the enclosing layers of hardened snow, he ambles, his feet feeling the iciness of the ground even through the coarse material of his damaged leather boots. It hurts, yet he does not turn back.
"Almost there," he assures Sam aloud, a mere excuse to soothe himself out loud, the thin lips shivering with his stroll against the chilly wind. Throughout his stride, all he sees is sleet. And more of it.
Minutes later, he reaches where he had aimed. As soon as he does, a wide grin spreads across the curve of his small mouth.
"I told you so," he looks at Sam, who stares in blankness.
In front of him appears a grand downward slope covered in falling Cryoconite—a kind of dust made of rock, snow, gravel, and soot that accumulates on the ice sublimation. He can see that it falls infinitely down the slope until the very end.
"Cryoconite," he whispers. "Something must be around," In his mind and knowledge that he has so far learned, he knew that such signs that are rare at any topography hint at something. They always do. No matter what they are, their presence themselves means something as nature is always interlinked. Anything that exists is either a result of something else existing and sustaining in near proximity or is the cause of some other phenomenon nearby. One or the other, any new discovery or an answer means something. At that time, finding the downward slope with Cryoconite falling off makes his heart feel hopeful. For many reasons, that is all he needs—a minute glimmer of something other than the uniform sheets of snow and sleet. Fetching the slope becomes the reason he gets ready to use his brilliant mind again.
As the good news and the truth of his assumption get confirmed, Henry looks down the slope in an effort to spot something or anyone. Squinting his green eyes to get a much clearer view, all he still gets to mark is a change of color. Amid so much white, even a slight smidge of new hue could be observed. From above, his sense of sight could spot something a tad bit darker and different down below the slope. But, he can not tell what it is. It appears dense and unique yet seems a blur.
Henry sighs as his gaze returns to his cat, who remains unaware of what happens around him as extraordinary and out of the blue. Looking at his companion for years, he feels better and opens his mouth to ask him.
"Ready?" he enquires and begins to sit down on the very end of the icy plateau near its edge. But this time, he does not spread out his legs and instead pulls them up and almost cowers. The wrapped arms around his legs help the cat stay on top of him until he takes a huge puff of air and lets himself get dropped on the slope's edge, almost skating down the marginally steep incline of ice.
Smoothly floating on ice with his finely adjusted crouching body, Henry descends on the smooth sheet of ice on his feet. His hair flies with the wind, yet the uniform texture of the snowy hilly surface lets him glide as if on a slick slide until gravity pulls him down and stops him at a considerable distance.
"Whoa, smoother than I thought," beams Henry as he stops on a flat surface, and the cat hops out of his lap as soon as they hit the ground. However, the pair of Henry's sight does not look at Sam as an extraordinary and rare sight awaits him.
The change of color that he had observed when he was on the slopes above is correct.
Unlike the rest of the surroundings, the entire expanse of ice below his feet extended bright blue—a hue that imitated the ocean, yet it is just ice. Blue ice.
"Blue ice," Henry mutters under his breath, completely astounded by the breathtaking hue of the new icy ground across the Artic. As he stares at it and observes the vastness of the region, his eyes explore all that surrounds him—boundless blue frozen ground, the hindrances as snow rocks that caused it, the delicate, gravel-like deposits of Cryoconite from above, and the bubbles underneath the smooth blue ice are visible. All of it spreads out evenly as Henry relishes the view he has only seen in scientific textbooks and aerial images. In reality, no words could describe the beauty of this region.
"Marvel," he whispers as his feet find the ground again and begin to automatically tread ahead. Seeing him, Sam hops back on him with his 35 pounds, adjusting himself on Henry's right shoulder covered with the denim jacket.
At regular intervals, a Cryoconite hole appears with rock-like substances filled in them. As Henry walks along these holes, his eyes remain dazed by the landscape he had landed on. The sight stays incredible to his sense, almost making him forget the throbbing pain in his right leg. He still stumbles, though. But he knows he has to walk forward now as it is the reason he has taken the risky leap and fallen off the slope without knowing what lies ahead. Now, he has to be more smart and diligent. Knowing what the topography indicates has helped him spot the downward slope, and therefore, he is sure it would help him in his journey ahead as well.
The blackness of the night made the blue of the ice appear darker, yet Henry guesses it would be even more breathtaking in sunlight as he had once seen what the scorching beams of the sun do to the glossy ice caps. He is sure it would be beautiful, far more than any viewer could possibly expect. At that thought, he wondered if Sam and him were the only fortunate ones to witness the wild region of Antarctica that only occurred with katabatic winds and comprised only one percent of the Peninsula. As a matter of fact, they are the only slightly warmer zones—the place he luckily descended to. This difference in temperature was because blue ice areas absorbed more sunlight and hence, kept the place slightly warmer than the others. Perhaps that is why Henry feels a tad bit better than he felt before.
Following the Cryoconite holes, Henry continues his march on the vast stretch of the blue ice, observing every tiny detail. So far, his brilliant mind and sharp observation skills could not find anything hinting of a possible human existence—no footprints, no leftovers, and no signs deliberately left behind for survival. As the miles go forward with the time that could not be precisely told, Henry could feel the wind getting wilder. Now, it begins to obstruct his undirected walk.
"Ugh," he flinches as the wind halts him, making the poor man wrap himself with his long, athletic arms while his eyes constantly get shut due to the intensity of the chilly breezes. They reach his constant companion too. The cat reflexively shivers beneath the thick coating of silverfish fur and jumps on Henry's neck, making him instantly make room for him under his jacket.
"Here, you ar… are… okay…" gritting his teeth tightly against each other due to the nippiness, Henry speaks to Sam and snuggles him on his right arm under the jacket. As the two of them pace forward despite the strength of the wind, suddenly, the Cryoconite holes begin to get more extensive.
Continuing to track them down, Henry Carter observes how the depth and breadth of the holes filled with soot and gravel rise, yet the amount of substance in them go down.
"That's weird," he mummers, peering at the hollow holes now appearing with more frequency. Another observation of nature strikes him again as intrigue gets hold of the adventurous young man.
As the number of holes continues to decrease side by side, the size rises to an extent as significant as half of Henry's height, at around 3 feet. They become hollow, too, as if vacant for anything to fill up in them.
Almost nearing the grandest one he has yet seen, Henry stumbles quicker to reach it. For some reason, the hole looks too big from that distance, almost like an underground pothole.
After a minute, his pair of legs finally reach the giant Cryoconite hole and freeze in shock yet again.
What he sees in the hole is far from his expectation.
"L…Lun…Luna…" he breathes.
In the most colossal Cryoconite hole, a 5 feet 3 inches figure hugged itself in a snugged position, as if shielding itself and using the hole like a small cave-like shelter. It extended in the span of the cavity, filling it up a few inches into the solid ground with spheroids of snow dipping inside of it.
"Is this you?" with broadened eyes, Henry screeches, staring at the girl looking as pale as a ghost and with her nose reddened due to the intensity of the cold. Besides that, her fine black long hair covers her neck and the sides of her heart-shaped face as if intentionally kept there for protection from the cold. Her eyes are closed, yet they open as soon as they hear a human voice. She jolts due to the sudden calling of her name in the stranded continent.
Luna Morgan, the intelligent, fun-loving, and talkative girl came to Antarctica with him, along with their team as the Chief Engineer on their grand ship, the Dreamcatcher. As the one in charge of the mechanics, she took care of everything that got broken or jammed. All of the equipment that went on board with them to search for the treasure was supposed to be constantly fixated and updated by her, the brilliant twenty-year-old chirpy girl from the South who has a great grip on her tools.
Despite Luna's striking features and hip-long glossy hair, her choice of clothing was never feminine. Yet, she always appeared delightful and friendly to all of the crew members of the treasure-hunting team, even with the captain of the ship. But right now, she looks awful in the hole.
"Who is it?" she almost barks amid the gushing wind, looking petrified by who has found her amid nothingness.
"Henry… Henry Carter from Dreamcatcher. It's me," almost bending down to look at her closely and make her recognize him despite his disheveled appearance and the blurriness in the atmosphere, Henry begins to near his face to hers. It makes him lower himself more to the blue iced ground, inching toward the hole.
From a closer look, he could see that even her clothes, a jet black tracksuit covered in grease, have stains—some of the faded blood while others were of fresh soot. Her hair has grime, and dust spread unevenly in each strand, making them appear greyish, while the corners of her noticeably pouty lips have signs of thirst and dehydration.
"Henry?" she utters as words find her. Holding her head full of black hair up, she finally opens her eyes, and her broad lips curve deeply.
"Yes,"
"Oh my god," she almost yelps yet keeps herself in the same position as she has been—knees to her chest while arms around her fleshy calves.
"Are you okay?"
"Not really,"
"How did you get here, Luna?"
"I don't know. I just don't know what happened!" tears escape her black eyes and quickly vanish because of the surging wind.
"Is anyone else around?"
"Not that I know of. How did you find me?" she screams to make herself heard amid the chaos of the windy night.
"I didn't; I just came across you. How did you find the hole?"
"I woke up next to it. A few miles away. I did not know what to do! I was so scared, Henry! What happened?"
Henry's eyes glare at her as she discloses her state of tragedy. He grimaces as he looks at her hiding out in a soot hole yet feels grateful that she got protected because of it.
"Are you going to come out?" he shouts at her.
"No! No way!" she shouts back.
"But you can't stay in there forever,"
"I can," she says unconvincingly.
"Come on. At least we found each other. It will be okay. Now give me your hand," Henry tries to sound assuring with a hint of gentleness in his voice. He knows that she is scared and only needs encouragement. Shrugging off his hair from his flushed face, he puts out his hand down in the hole, expecting Luna to grab it and come out.
"But there is no way out of this," she yelps, looking straight in his intense green eyes, which have somehow found their color.
"We will find one! Just come out for now!"
Luna stares into his eyes for about thirty seconds.
"Trust me, Luna!" he insists with an urge in his tone.
With that, Luna extends her freezing right arm and grabs Henry's right hand to pull herself out of the empty Cryoconite hole with a forceful thrust.
Did you enjoy reading Arctic Record Chapter One? Click on the book image above to buy it on Amazon or simply click here on the book name to do the same Arctic Record. Read chapter 1 of the recent published mystery thriller Arctic Ave here. You may also visit arcticave.com to read additional chapters and order the book.